Ready for Thievery
A theft-ready content strategy deck, Harry Potter on TikTok, and an exhaustive reading list about brands and consumer culture
Hello, friendly human. Every week, this dispatch helps you make better creative and strategic decisions. Sometimes that means essays. Sometimes that means resources. This time it means a deck you can steal for content projects. It's good to see you. -Steve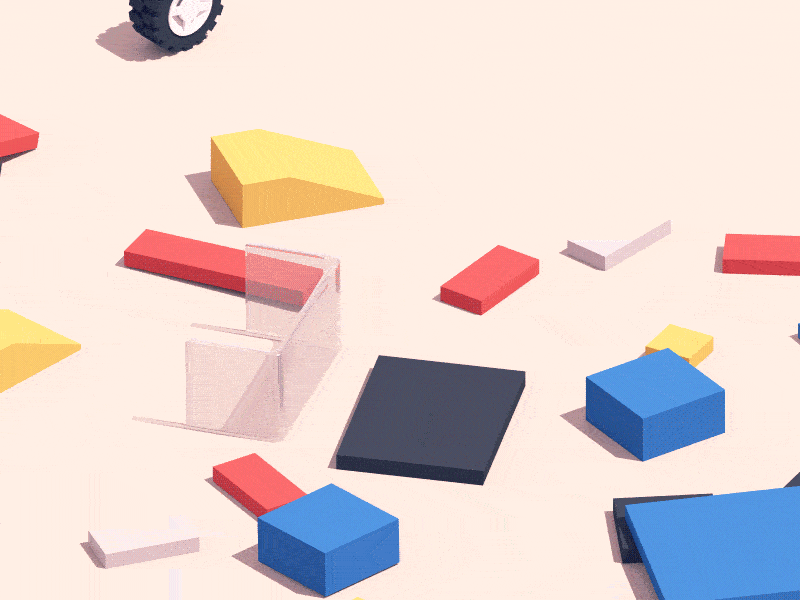 Recently I started a new content project for a brand, so I thought I'd share an anonymized version of the deck I created for the client.
Hopefully, it provides you with a good template for your own work, or saves you some time, or helps you organize an internal project at your place of business. You're free to steal it, copy it, remix it, feed it to the dog, etc etc.
But let me tell you about the project first.
The remit is straightforward: devise a content marketing strategy for an existing brand. The brand sells a risk management product. The brand wants to drop its current content and start fresh. To help them, we need to understand their audience, their competitors, and their brand.
The project deliverable is a marketing plan that helps the client make decisions about what content to create. That deliverable includes an audience definition, suggested topics, prioritized messaging, and calendaring across certain channels. While this project is to develop content strategy for an existing brand, the deliverable is more similar to what you'd devise for a startup.
I mention all of this because: there is no one-size-fits-all content strategy project. Startup projects are usually different than existing brand projects. Brands at different stages of growth need different scales of service.
My speciality is strategy, so I tend to focus on projects where my skill set of strategically defining how a brand should speak via content is best applied. Tools that help brands make decisions—that's the fun stuff.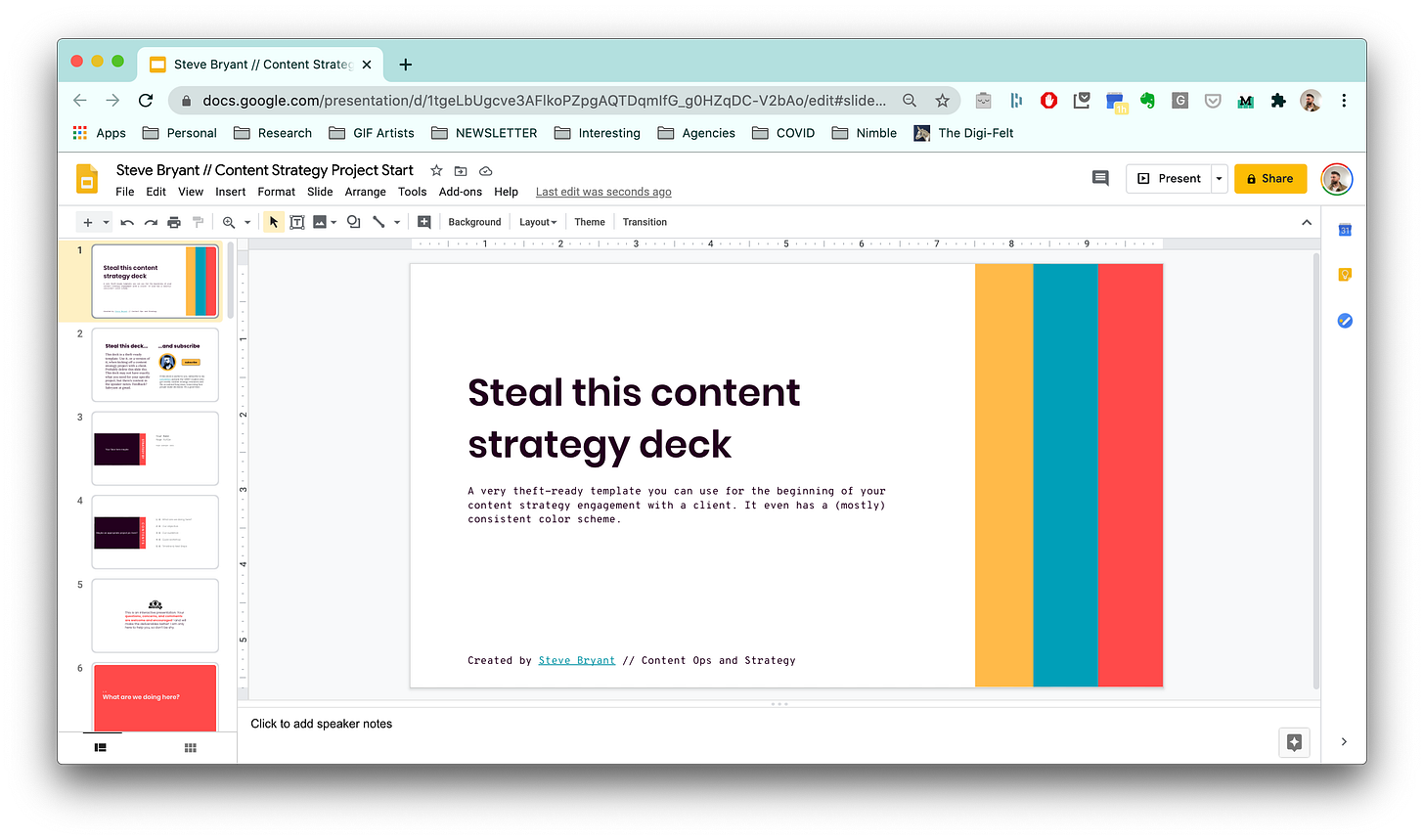 You can download the deck via Google Slides here.
This deck also includes an audience empathy map and audience persona worksheet: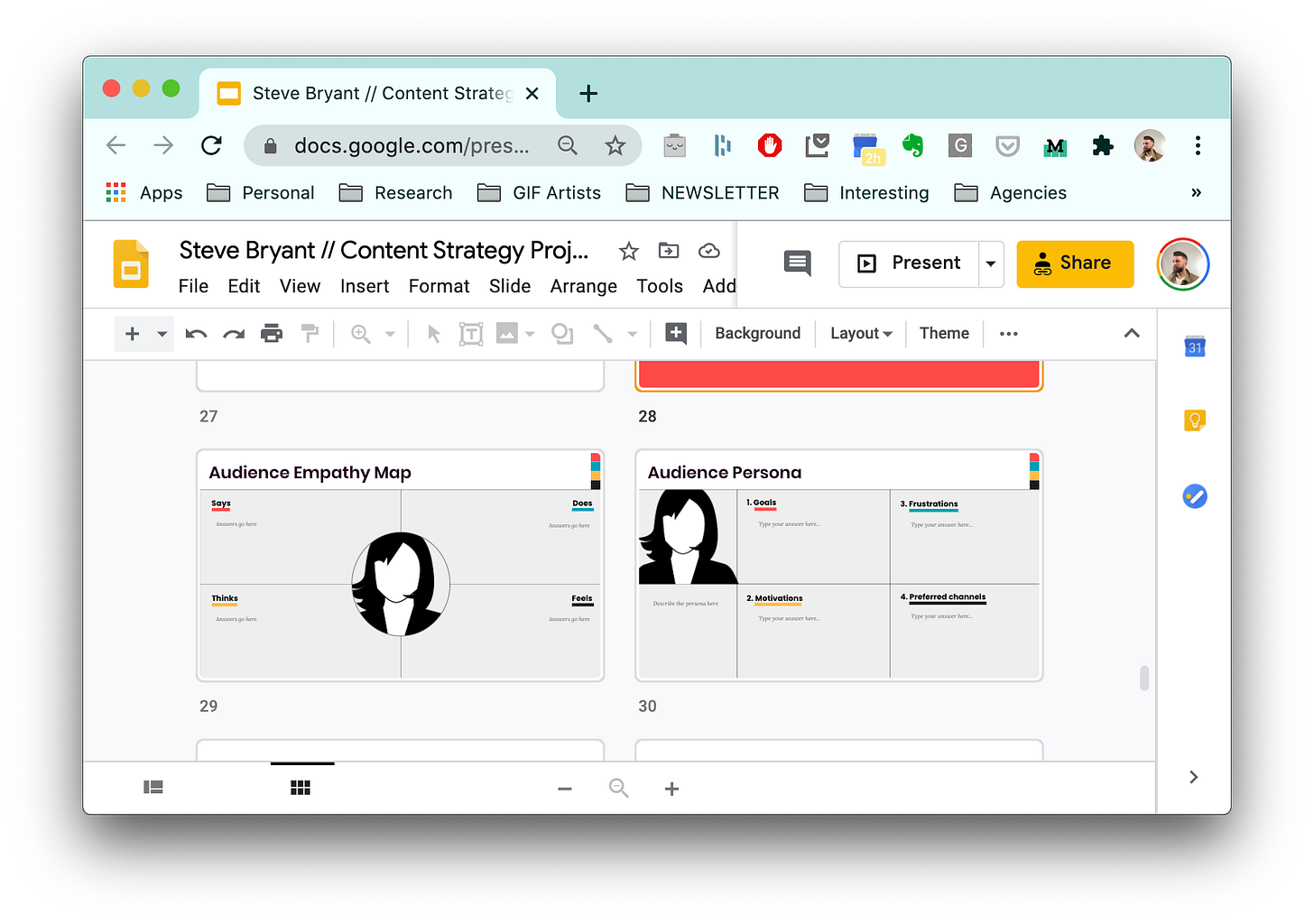 These are intentionally reductive versions of those tools (common in the marketplace) because I believe in starting simply, as per Gall's Law: "A complex system that works is invariably found to have evolved from a simple system that worked."
If you want to chat through any of this, feel free to grab a 30-minute meeting. I'd love to meet you.
Have a great week,
-s.
---
Gif by Guillaume Kurkdjian
---
Currently working on
Creating sales enablement tools for a healthcare technology brand and developing a content strategy for an insurance brand. 
Office hours
Want to chat? I host Office Hours every weekday to talk with anyone/everyone about content marketing, editorial ops, managing writers, the joy of playing D&D via zoom, how to diet while still eating Cheez-Its—literally anything! Grab a 30-minute meeting. I'd love to meet you.
---
Last week's most clicked links:
(Oh and p.s., my little essay on Chinese flat earthers was featured in WITI last week, check it out!)
---
Delightful and Informative Links
---
How can I help you?
This 100% organic, free-range, desktop-to-inbox newsletter is devoted to helping you make better creative decisions in marketing and beyond. Delivery at 6pm ET every Sunday, sharp as cheddar. Your host is Steve Bryant, who is for hire. Two big reasons to get in touch:
You work for a brand and you want to develop or manage your brand's content marketing

You work for an agency and you want to develop content ideas and proposals for a pitch, or manage content programs for clients.
If you'd like to chat just grab a 30-minute meeting. I'd love to meet you.
---
If you found this dispatch useful, please forward it to your friends and lovers. Thanks for hanging out. Be seeing you.